Monday, January 30, 2023
Exploring Viva Magenta Flowers and Pantone's 2023 Color of the Year
Color is a fundamental part of floral design, and exploring the many shades and hues that exist naturally in the world is an exciting and beautiful adventure. This year's Pantone Color of the Year, Viva Magenta, is one of those stunning and exciting shades. It is a bright and bold color, and here at Cascade Floral Wholesale, we enjoy finding beautiful and artistic ways to incorporate this color into arrangements and all sorts of flower creations. Whether looking for vibrant Viva Magenta blooms or ways to highlight these fierce, confident, and marvelous stems with complementary colors, the experts at Cascade are diving into everything you need to know about styling Viva Magenta flowers.
What is Viva Magenta?
Viva Magenta is a color that shines with power and vigor. It is a shade pulled from the red family and rooted in nature, making it the perfect color to look for in floral blooms and arrangements. The organic origins of Viva Magenta come from the humble cochineal beetle. This scaled insect produces reddish carmine dye, one of the brightest and most precious natural dyes. Viva Magenta is an excellent shade to incorporate into the color palette of your flowers because it is a hybrid color. It is a bold color that is welcoming and not too aggressive, making it an excellent hue for event floral designs.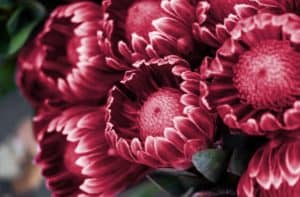 The Symbolism of Viva Magenta
Part of Viva Magenta's charm is its rich symbolism. Celebrating confidence, empathy, optimism, and most of all, "fierce grace." As a member of the red family Viva Magenta signifies passion. The hints of purples and pinks in the color also help balance the intensity of red with joy and fun. The blending of these remarkable hues makes Viva Magenta a perfect choice for a fun and bold bouquet full of life and inspiration.
Viva Magenta in Flowers
There are many great flowers with hues like Viva Magenta. Roses, dahlias, orchids, protea, calla lilies, and peonies all bloom in magenta. If you want to make a trendy monochromatic design, it is a great idea to consider pink and red flowers like carnations, lilies, yarrow, amaryllis, gerbera daisies, tulips, and alstroemeria. A seemingly endless number of pink and red flowers will fit seamlessly into Viva Magenta arrangements.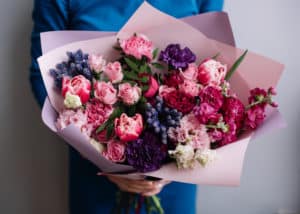 Viva Magenta Color Palettes
Using color theory, you can pick various tones to pair with Viva Magenta in a floral arrangement. If you want to make your magenta flowers pop, you can pair them with pale blues and grays. Suppose you want to create a brilliant bouquet with a complementary color to magenta. In that case, you can add fresh and vivid greenery like eucalyptus or green flowers like button poms, hydrangeas, and orchids. Another great combination is bright purple and lively blue flowers for an eye-catching palette for your arrangement.
Flowers are one of the most expansive mediums to explore color because of the many natural hues and shades in which florals come. The symbolism of both the color and the plant can create profound meanings and thoughtful expressions. Viva Magenta cloaks us in both power and grace and adds a powerful strength to any arrangement or space it inhabits. Brighten your event, home, or loved one's day with a DIY design incorporating Viva Magenta flowers from Cascade Floral Wholesale.